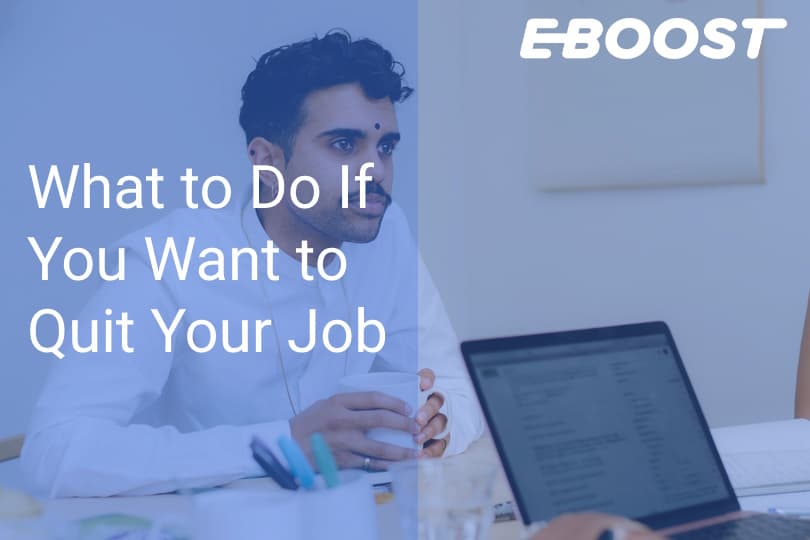 📅 April 1, 2023 📝 Last updated on May 18th, 2023 🕒 13 minutes Read time
People quit their jobs for a number of reasons. It could be because they have to move out of town and working from home is not an option, because they don't like their managers, or simply because they're going through burnout. Whatever your reasons are for leaving the company, you can't just walk out of your cubicle and dust your hands off the projects you're working on. So here's what you should do, step by step, when you plan to quit your job.
Apply for Business Financing Today!
Quitting: A Step-by-Step Guide
You find yourself saying, "I want to quit my job." But how does one properly resign from employment? Resigning should be handled with the utmost professionalism and grace. When submitting your resignation, it is best practice to give your employer as much notice as possible, to create a professional resignation letter, and to be ready to move on.
If you don't follow these procedures, you could end yourself alienating your former coworkers. If you later try to go back into your old employment or get a new job at a business in your field, that could come back to haunt you. A recommendation or reference could come in handy at any time. Leaving on good terms ensures that you will have allies should you ever need them in the future.
But there are times when you just can't follow the rules exactly as they've always been done. Keeping your good name among your former coworkers requires that you know the protocol for quitting your employment. If you're leaving soon, here's what you need to know.
Review your job contract.
You should review your employment contract to find out if:
Duration of any required notice period before leaving a job
What legal considerations, if any, you should be aware of
Before giving your employer notice of your resignation, you should review the terms of your original agreement to see how many weeks' notice you are required to give. When resigning, it's crucial to know whether or not there are any restrictions on using business property or soliciting employees or customers.
Consult your superiors and/or human resources.
Step 2 involves speaking with your supervisor or someone in the HR department before handing in your formal resignation letter.
Topics for discussion could include:
That you are leaving
Reason for leaving
How much advance notice you are giving
Your plans for easing the process of project information transfer
Ask for required documents like an experience letter or a reference letter.
Submit a formal resignation letter
As far as quitting a job goes, this is the "official" way to do it. Once you and your employer have discussed your resignation and reached an agreement on the length of your notice, the details of your transition, and the tone of your leaving, writing your resignation letter will be much simpler. The letter shouldn't be more than a few paragraphs long, and it should get right to the point. Send it through email or print it out and give it to your supervisor and HR manager in person.
Satisfy all necessary transitional conditions
Now that you've given your notice for quitting work, it's time to follow through on everything discussed and written about in your correspondence with your employer. Your professional reputation will be greatly impacted by this, and it will significantly affect how the company's employees will remember you.
Here are some considerations:
There is no guarantee that you won't be asked to leave your employment immediately.
Educate your coworkers about your processes and procedures.
Get your documents in order and share them with the group.
Give back all business belongings.
Get your belongings.
Have a Plan in Place
If you're feeling mentally drained at work and want to improve your mental health, taking a break is a wonderful idea. Yet, not everyone can make that leap without some careful preparation.
So, before you take the plunge, consider these five pieces of advice from financial experts.
Evaluate your finances
It's a good idea to calculate your household's net worth, including all sources of income and liquid savings, before quitting your work. Is your partner's income sufficient to cover your expenses, or do you each have sources of supplemental income?
The next step is to figure out how many months' worth of living costs (rent/mortgage, food, utilities, debt payments, etc.) can be covered by your present savings and projected income. The specifics of this figure will vary from person to person based on variables such as family composition, location, cost of living, and income. Holiday gifting and other yearly costs could sneak up on you in the coming months.
Have a strategy for acquiring the surplus if your projected funds fall short of your needs. In order to save money, get a part-time job, or make significant changes to your lifestyle, you may need to wait a few more months before quitting your job.
Expect to be unemployed for a longer period of time if you don't already have another job lined up. There's no promise that you'll find a new job immediately, so always give yourself some wiggle room.
Strengthen your abilities
It's important to give some thought to the future of your profession and the skills you'll need before quitting your current employment.
If you want to keep working, you should consider whether or not you'll need to further your schooling or learn new skills. If you want to avoid taking on extra debt for school, it's essential to complete these things before you quit your employment.
Budget for any classes, online or in person, that you might want to take advantage of to improve your skill set while on sabbatical.
Reduce wasteful spending
You'll have to cut back on your spending if your income drops or disappears entirely. Consider cutting back on eating out and other unnecessary monthly expenses.
Not settling for the status quo. You and your spouse may be able to get by without a car if neither of you is currently employed. If you're looking to save money on car insurance and make some extra cash, selling yours could be a fantastic option.
Use the benefits available to you
Get routine checkups with your doctor and deplete your FSA (if applicable) before you leave your present work. If you are unfamiliar with other perks, you should familiarize yourself with the HR website. Prior to leaving, you may qualify for a fitness reimbursement or gain access to mental health treatments.
Retirement benefits and stock options often have a vesting period that must be observed. You should think long and hard about taking a break if you haven't completely vested in your benefits.
Make preparations to take time off if you still have some left over. If you're worried about losing those days if you leave, now is the time to use them. Yet, in some jurisdictions, employees are entitled to be compensated for any vacation time that is not used.
You shouldn't withdraw from your retirement fund
Financial experts advise against using retirement savings to pay for a vacation, no matter how tempting it may be. The reason for this is that between taxes and penalties for withdrawing money too soon, you could end up losing more than 30 percent of your savings.
Maximizing your employer-sponsored retirement plan is an excellent idea if you are in a position to do so. While most people stretch their contributions out over the course of a year, you should contribute the maximum amount now to maximize your tax benefits if you plan to leave before the end of the year.
However, when you quit your job, make sure you roll-over your 401(k) so that you don't forget about it later. You'll have a lot of free time on your hands, so now is the perfect moment to tackle this project and any others you've been putting off.
Backup plans
I quit my job and started an online business. Now I'm making twice what I made at my 9-5 job!
Does this sound familiar? These tempting advertisements will not tell you how much groundwork is necessary before you start making that kind of money. But, if you've gone in this direction and your hobby/side job is taking up all of your spare time. You should really consider making your side hustle your full-time occupation if it represents your true passion. But only if your small business is a reliable source of income should you take that step. Until it can support itself financially, you may need to keep it as a side gig. However, once your small business takes off and it starts to make progress, quitting your job to scale the business is always a good plan of action.
Ready to grow your business?
What You Shouldn't Do While Quitting
There are a lot of ways to go about this wrongly. You never know what the future holds so it's best to avoid making the following mistakes while quitting.
Burning bridges with your colleagues
Don't do anything you'll come to deeply regret, even if you're certain you'll never return to your current place of employment. Don't waste your last few days at work moping around feeling sorry for yourself; instead, leave on a high note by leaving on good terms. Have a level head and keep your connections strong at all times. The people you know can help you get far in your chosen field. Maintain your current network and start making new connections at your new job.
Avoid distractions
While it may be tempting, tardiness, absenteeism, and long lunch breaks are all indicators of a poor attitude. Having one foot out the door can make it difficult to concentrate, but putting in your best effort anyway will boost your confidence and preserve your professional reputation.
As you wrap up and hand off tasks, your coworkers will appreciate your attention to detail and be relieved that they won't have to take on any additional work while you're still there.
Don't overstay your notice period
It's true that being an excellent worker when things aren't going well is quite challenging. Whether you're underappreciated, feel like you've reached the limits of what that role can provide you, or just don't see a future for yourself there, there are many possible causes for dissatisfaction in the workplace.
If yours isn't working for you, for whatever reason, accept the situation as it is and make the necessary changes so that you can achieve success and happiness. There are other options available to you that are much better.
Avoid quitting without notice
Burning bridges with your management and coworkers is an inevitable result of quitting without giving proper notice. Even in the direst of emergencies, you should never resort to this.
Remember your professional status
It's generally not a good idea to tell your employer or a coworker how you really feel about them, no matter how much you want to. In the short term, yes, expressing your emotions may help you feel lighter. Yet, in the long term, this will only hurt your professional standing.
Your actions will be remembered by many, and it is possible they could become significant later on. You never know when you might need a reference, cross paths with a former coworker, or have your reputation accompany you into a new job. No matter how likely it is, it's better for your career if you can find some other means to express your frustration.
Briefly Talk to the Boss
Regardless of how you feel about resigning—relief, dread, or regret—there are some steps you should take. When planning your resignation, especially the words you will use, keep in mind that you want to leave on the best terms possible.
when you do decide to talk to your boss, here are three things you should do:
1. Speak to your manager in person
Don't involve any third parties while telling your boss that you need to resign from your position. You wish you could influence that. It would be unprofessional and, quite well, humiliating to let the knowledge get to them any other way, such as through the department grapevine or office gossip.
If you can't talk to your boss in person, try to arrange a phone call or an online meeting instead. Using email should be a last choice, yet it is acceptable in some situations.
2. Practice your resignation speech.
When approaching your superior, you should be certain of the message you wish to convey. It may be tough and embarrassing to have the talk, even if you are departing on good terms. You must be careful not to fumble your words.
You should be confident in your choice and ready to answer any questions or address any concerns your manager might have. Can you firmly refuse a counteroffer if one is made? Nevertheless, what if your boss asks you to rethink your decision and advises bringing the subject up in a few days? Then what if they start crying? It's possible, especially if you're highly valued at work and/or have a solid rapport with your superiors.
Maintain decorum and resist the temptation to air your grievances during the meeting. Imagining a spectacular exit is entertaining, but it's not a good idea to really quit your work in such a way.
3. Formally submit your resignation letter
We've talked about this before. Despite your heart-to-heart with your boss, you should put your resignation in writing, whether via email or a hard copy letter to your manager. Putting your resignation in writing guarantees there is no ambiguity regarding when you gave notice or when you actually left your position. The HR department at many businesses will save a copy of your resignation letter as final paperwork.
Final ThoughtsPerhaps you're considering quitting your career for personal reasons rather than professional ones. It could be that you're ready to make your side business your full-time occupation. Whatever your reason for quitting is, follow this article to do so gracefully. If you find yourself in a financially sticky situation, reach out to EBoost Partners, where the experts will find you financial assistance and solutions for your upcoming small business endeavors. Good luck!
Start the Funding Procedure Now!
How to Quit Your Job: FAQs